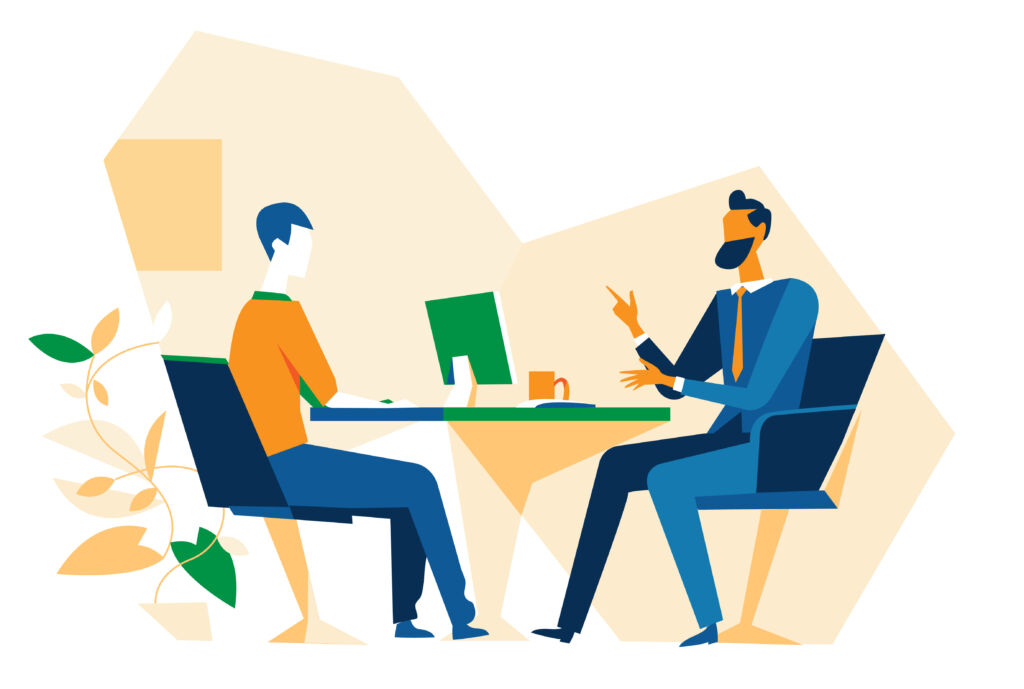 Far from being a novel concept, consultative selling has been around for over 40 years. Mark Hannon initially mentioned it in his book, "Consultative Selling: The Hannon Formula for High-Margin Sales at High Levels" in 1970. A notable shift in customer expectations, aided by constant developments in technology, has brought it back into focus as a B2B best practice. Because digital marketing seldom sees you meeting the client face-to-face beforehand, establishing their confidence in you is not as simple as it used to be. Marketing companies, especially those in the global B2B arena, are realizing the significance and mutual value of transforming their sales teams from transaction-based salespeople into strategic advisors for their clients.  
Transactional Selling vs Consultative Selling

:

The long and short of it
A transaction-focused sales approach is aimed at promoting the product or service a company offers and places great value on closing the sale in the fastest time possible. It underpins a quick, short-term fix for the client's pain point. With little concern for finding a solution to the buyer's needs and potential concerns, it usually involves a once-off sale. This means a fleeting exchange and little prospect of developing a lasting business relationship with the client. Of course, transactional selling is necessary for some business models, but how conducive is it in the world of B2B marketing? 
Consultative selling (or needs-based selling) refers to a customer-centric approach that concentrates on establishing and maintaining client relationships that will far outlast the initial project. Rather than focus on the transaction, it prioritizes the client and their needs; and creates an open dialogue that identifies solutions aimed at meeting those needs. It includes implementing actions such as open-ended questions, active listening, educating the client on long-term solutions, and focusing on long-term success instead of an immediate and final sale.  
Give the people what they want

:

The power of consultative selling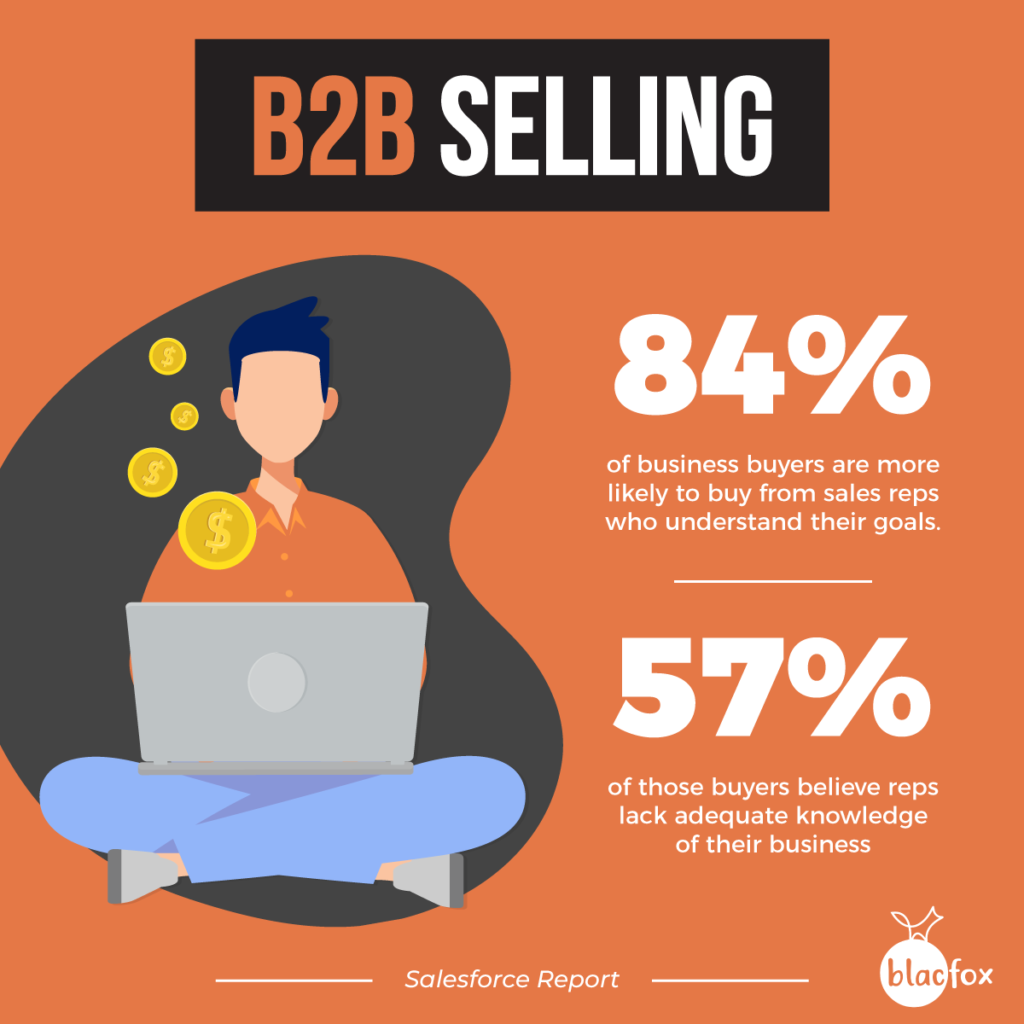 According to Ben Taylor (HubSpot), a report from Salesforce notes that "84% of business buyers are more likely to buy from sales reps who understand their goals. In the same study, it was also discovered that 57% of those buyers believe reps lack adequate knowledge of their business." Per Kelly Blum (Gartner), upon analysing 1,100 B2B customers to gain "a detailed understanding of what drives continuing or expanding customer relationships with an existing supplier," Gartner found that "the strongest driver of account growth is the confidence customers have in themselves and their ability to make good buying decisions." This result far outweighed customer satisfaction as a motivator.  
B2B Buyers, then, are no longer buying mere products. Instead, their decision to purchase from you now depends highly on the level of your understanding of their business, your knowledge of their business needs, and the confidence you give them by educating them on the solution you are providing. Consultative selling comprises these qualities, offering the B2B buyer value that will far outlive the "pitch-present-close" approach of traditional selling.  
In addition to highlighting the knowledge, skills, and expertise they bring to the table, an effective consultative seller genuinely empathises with the client, ensuring they feel heard, seen, understood, and secure. This builds trust – a characteristic synonymous with the vitality of any successful long-term relationship.  
Could consultative selling work for your business?
Consultative selling works because over and above simply offering the client a solution, an effective consultative seller becomes part of the client's solution.   
Per Richardson Sales Performance, the top benefits of consultative selling include: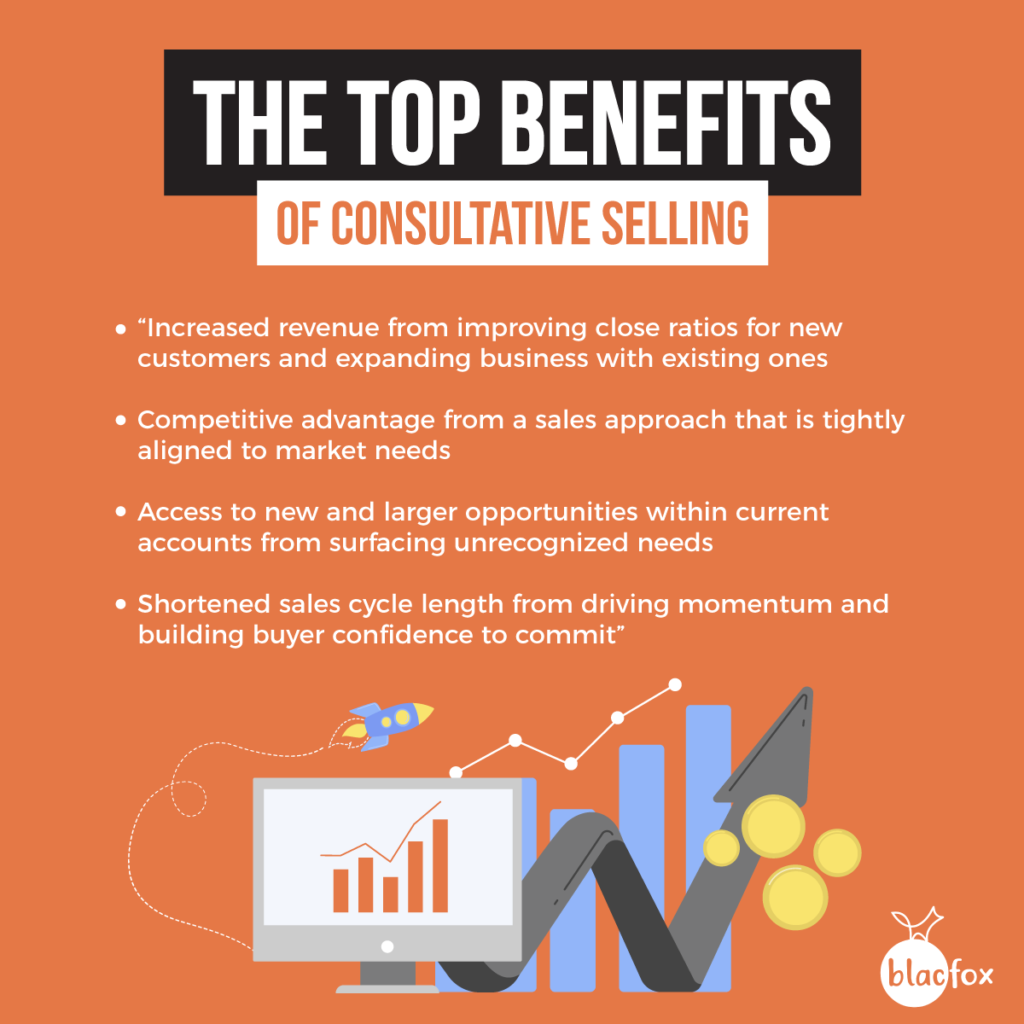 Consultative selling could help you establish your business as a strategic solutions partner – a differentiating factor that will most likely gain you a repeat customer, elevating your brand loyalty to new heights, and resulting in a greater ROI. 
Interested in learning more about how consultative selling can benefit your organisation? Contact us for more details.