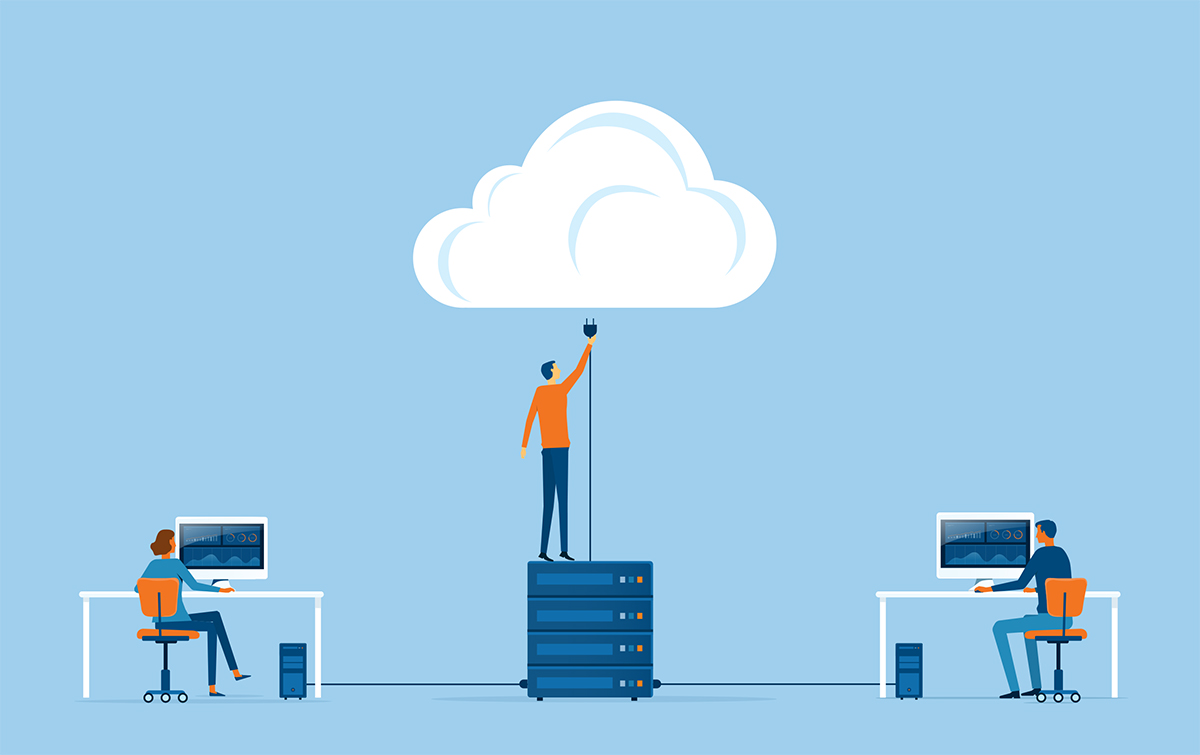 The shift to digital, to cloud, to remote work: these are terms that are appearing frequently in 2020. And given that we are in a time where physical contact is amiss and workforce stability is quickly dropping, it's not surprising. Businesses are desperately grasping for stability, and the only thing keep the economy from falling even further than it already has is the access to cloud and the ability to work remotely.
Now much has already been said about the shift to cloud and digital, and at one point they were the next big thing; but today cloud and digital are simply the thing. And now that our lives have been permanently altered by the COVID-19 pandemic, let's understand why it's so important.
Why is remote work being called the "new normal"? Why has remote work become the cornerstone of coronavirus related conversations?
We are in a time unprecedented in the workforce history. Now that factories, restaurants, and other workplaces have shut down, it is only through the work-from-home movement that the economy is still staying afloat. Remote work and the ability to work from home has played a pivotal role in enabling businesses to continue operating while still respecting the social distancing laws that have been put in place by the government.
And it is only through businesses adapting resilient on-demand infrastructure, and being able to access data anytime and anywhere through the use of cloud technology that people are able to operate their digital offices from home.
And although we are amidst a global pandemic, businesses are reporting a greater level of productivity and job satisfaction than when they were working on-site.
90 percent of employees say that the flexibility in their work arrangements has contributed to their morale, and thus improved their work-life balance. So it is not surprising that remote work is being called the "new normal". Not only has it enabled businesses to operate while in lockdown, but also because it has improved individual employee performances. According to a survey conducted by Gartner, 74% of CFOs and finance leaders intend to shift a part of their workforce to permanent remote work positions.
Furthermore, by permitting employees to work from home, businesses save when it comes to expenses such as workplace supplies, water, and electricity. To further state the benefits of remote work, it becomes useful to note that AT&T reported saving $30 million a year in real estate alone from implementing remote work; and companies that have remote workers have not only experienced a higher profitability but have also had a 25% lower turnover. Additionally, remote work has provided companies with access to a much wider pool of talent when hiring. So having the right technology in place can make anything possible during this crisis.
The sudden move to digital has shown us that the modern workplace has evolved to a point where employees can effectively work from home, and in turn, benefit both themselves as well as their companies. All of this has been made possible by modern technology, specifically by communication technology. And now that the stigma of working from home has been erased, it is clear that remote work is extremely effective when implemented correctly. And the demand for it is quickly growing — because 83 percent of workers have reported that the ability to work remotely would be the selling point if they were to decide between two similar job offers. For post people, the value of working remotely with flexible hours outweighs that of a job promotion.
Tech-led companies have greatly reduced the otherwise drastic effects that the economy would have faced. Watching most of the workplace stores close down, one can't help but be thankful for the cloud and communication technology that has been made available for their use. It is because of these technologies that schools, e-commerce businesses, and most workers are still able to earn an income and keep the economy from falling apart.
This great global crisis has shun a light on our dependence on old-fashioned methods of work, which have now quickly dissipated. Instead, what's left is the need to grow our technology even further. Cloud and digital are our past, present, and future; and moving forward 5G, complex networks on the cloud, IoT-enabled equipment, contact-less retail and delivery, and autonomous business systems will be the only reality. If you weren't using cloud and digital services last year, then you were late; but if you aren't using them today, then you'll struggle to run your business for much longer.
It doesn't matter what we are doing or where we are doing it, convenience always wins. And in 2020, amidst a worldwide crisis and widespread panic, the most convenient route has been shown: it's remote work. Remote work, remote work, remote work! And right now that's the only path forward. It's no longer a matter of where we will work, but of how.
Although coping with the current circumstances should be every business's number one priority, it's no longer just about staying afloat during this pandemic. One must see this as an opportunity to develop the necessary tools and skills needed to operate in the future. Yesterday cloud was the big thing, today it's remote work; so use this time to experiment with it — find out what works and what doesn't, and always stay ahead of the competition.
The good news is that what will help your business now will also be beneficial in the future. The "new normal" is just a world where we focus less on location and more on the actual work.
Happy remote working!